Archive for April, 2008
April 13th, 2008 Categories: Real Estate News
Utah Division Of Real Estate's
Licensing Actions and Disciplinary Sanctions
Incoming Director of Real Estate Mark B. Steinagel is quoted "My vision for the Division of Real Estate is to continue making things easier for the good guys and harder for the bad guys".
The Utah Legislature has been adding new teeth to its bite on fraudulent activity in the Real Estate World. Up until a few years ago loan officers were not regulated. Now Mortgage Brokers, Loan Officers, Appraisers and Real Estate Licensee are governed by the Utah Division of Real Estate.  The fact that all three of these licensees are handled by one department makes things a little easier. It is tough to work across different divisions.
Some new legislation that has been enacted is HB 346, SB 134, HB 128 and they are adding new investigators.
Below are a couple of Disciplinary Sanctions from the Utah. I took out the names, I am not interested in the who as much as I am the what. I would like to inform the public of some of the things that were being done during the boom. I am always amazed at the audacity of some people.
Sales Agent, Lehi, UT. Agreed to pay a $40,000.00 civil penalty and the revocation of his sales agent license for a five year period in an October 17, 2007 Order. Sales Agent admits to using the identity of another individual for purchasing a home for his personal residence, falsely indicating on settlement documents that the home would be "owner occupied" and acting as a real estate agent in three separate transactions using that same individual's information on settlement documents. He forged signatures of that same individual on documents, obtained an appraisal for the purpose of inflating the price of the subject property to obtain money in excess of the sales price and acquired cash at the closing for his personal benefit. Sales Agent also diverted proceeds from loans to a company controlled by him at closing as part of the scheme to conceal the true terms from the lender. Case # RE35870.
 A MORTGAGE COMPANY, Draper, UT. Agreed to the revocation of it's mortgage license in the State of Utah and not to sell the company to any other individual or entity in a November 7, 2007 Order. A Mortgage Company admits to violating Utah Code Annotated Section 61-2c-301(1)(d)(l) in which the company submitted a fraudulent CPA letter, added different individuals temporarily to bank accounts to show they had sufficient funds to meet underwriting conditions, submitting false employment and income information, submitting loans to lenders stating that properties were "owner occupied" when they were investment properties and had never been occupied, and misrepresenting income on a personal loan. Case # 36257.
These are good reasons when interviewing an agent to check the State's Web Site to see if they have any actions. http://realestate.utah.gov/
Posted by Rob Aubrey | Discussion: 4 Comments »
April 13th, 2008 Categories: Real Estate News
Salt Lake Real Estate Market
Showing Signs of Improvement 
Shhh Don't tell anyone but the Salt Lake Real Estate Market inched forward. Could be seasonal, could be amazing interest rates, could be buyers are not listening to media, it could be a lot of things or a combination of all of the above.
Number of residential units sold in Salt Lake County for the month of March is up a little over 17% from February and up 30% from January.  Average sold price up a hair nothing special. List to sale ratio went from 97% to 98%.  
One of the things not reflected in the price is seller concessions to the buyer.  For example if a property is listed for $280,000 and the buyer and seller agree to the list price BUT the seller agrees to pay $7,000 in closing cost concessions to the buyer. The price was $280,000 as reported but the affective price to the seller was $273,000.
Although appraisers will not count the concession when appraising, it still shows up in averages.
Posted by Rob Aubrey | Discussion: 1 Comment »
April 12th, 2008 Categories: Architecture
Most common in the Southwest and Florida, Spanish-style architecture takes its cues from the missions of the early Spanish missionaries–such as the one at San Juan Capistrano in California–and includes details from the Moorish, Byzantine, Gothic, and Renaissance architectural styles. The houses usually have low-pitched tiled roofs, white stucco walls, and rounded windows and doors. Other elements may include scalloped windows and balconies with elaborate grillwork, decorative tiles around doorways and windows, and a bell tower or two.
Source Realtor.org
Posted by Rob Aubrey | Discussion: 1 Comment »
April 5th, 2008 Categories: Real Estate News
Sellers Market 
You have heard of a seller's market. Inventory is low demand is high prices are going up. Listings are getting multiple offers, sellers are netting more than list price even after paying commissions. Things are really good for a seller.
Buyers Market
Of course to be followed by a buyer's market. Inventory is up demand is low, buyers are getting concessions from sellers such as closing cost, down payments, appliances… Things are really good for a buyer.
Waiters Market
But this waiter's market, I never heard of it before. This is when the seller's market is over and inventories are high, interest rates are phenomenal, jobs are strong and yet people are waiting. You have to assume people are waiting for the prices to bottom out. No one knows when the bottom is until prices start going up and that is when interest rates start going up.
The difference between almost the bottom and the bottom is not very much money and not a long period of time. So when you see interest rates start going up it is a good sign that the bottom has already happened.
Salt Lake County Real Estate Market
Now remember Salt Lake County has three markets based on prices. The upper market $500,000 and above still has uncertainty to it, especially in the south end of the valley in places like Draper and South Jordan, Herriman areas. The $300,000 and under is not that soft of a market. The $300 – 500,000 market is patchy.
Check out the chart below, it illustrates buying at almost the bottom. Whether you buy almost at the bottom on the way down or the way up the prices really aren't any different. The difference is how much your money is going to cost.
Now is it possible to time the bottom? Yes, but not by science or skill by luck. Remember we do not know where the bottom is till the market turns and then we can look back and say where it was.
Posted by Rob Aubrey | Discussion: 6 Comments »
April 5th, 2008 Categories: Architecture
Tradition has it that if you fire a shotgun through the front doorway of this long, narrow home, the bullet will exit directly through the back door. The style is characterized by a single story with a gabled roof. Shotguns are usually only one room wide, with each room leading directly into the next. Exterior features include a vent on the front gable and a full front porch trimmed with gingerbread brackets and ornamentation. Mail-order plans and parts for shotgun homes were widely available at the turn-of-the-century, making it a popular, low-cost structure to build in both urban and suburban settings.
Source Realtor.org
Posted by Rob Aubrey | Discussion: 2 Comments »
April 1st, 2008 Categories: Real Estate News
The Keller Williams Midvale Office has implemented a Co-Op Agent of the Month Award. Agents from KW submit an application on behalf of an agent they had recently closed a transaction with and why that agent should be awarded. 
This months co-op agent of the month is Michelle Koch from Coldwell Banker, Shaun Hilton submitted an application for her. There were 5 agents submitted and Michelle was the winner.
The recipient is recognized as an agent that you would want to do business with and they receive a copy of the best selling book The Millionaire Real Estate Agent and a gift certificate for lunch.
 Way to go Michelle.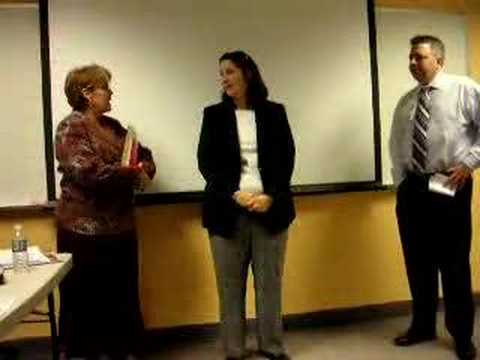 Posted by Rob Aubrey | Discussion: No Comments »
Copyright © 2007 3 Pounds of Real Estate Agent Login Design by Real Estate Tomato Powered by Tomato Blogs